How to Set Up a Gift Closet
This shop has been compensated by Collective Bias, Inc. and its advertiser. All opinions are mine alone. #BigLotsHoliday#CollectiveBias
Have you heard the term gift closet before?  If you haven't and don't have one, consider starting a gift closet and shop it for Christmas!  I am finally getting settled and organized in this house and it was time for me to get my gift closet organized and ready to go before Christmas is here!
Step 1, Select Your Space:
I have space in an extra linen closet, so I put it to work!  I keep children's and pet gifts on one shelf, generic gifts on another and gift boxes and ribbons on yet another.  This makes it simple to find and get what I need quickly.
Your gift closet doesn't have to occupy an actual closet, or take up an entire closet. A few shelves of a closet will do. Or if you're limited on space, a bin or drawer can work too!
Step 2, Shopping!
It was raining today (finally) here in Florida, so I headed out early to get to the stores.  I needed to pick up some gifts and wrapping items for Christmas.  It was such a pleasure to get to Big Lots with no crowds to compete with!  I picked up everything I needed right there and was back home to begin wrapping some items and adding others to my gift closet.  Just look at the selection!

It is such a relief when you are surprised by a birthday or other special occasion and you don't have to run out to pick up a gift because you already have a place to 'shop', right there in your home.  You will want to stock up on things for a number of different gift giving occasions, baby showers, birthdays, anniversaries and graduations.
Here is my haul from a quick trip to Big Lots.  I will be wrapping some of these up for immediate delivery and restocking my gift closet with the rest.  My favorite find is those cookie and treat boxes, they are already filled with yummy homemade Christmas cookies and ready to be delivered!
Step 3, Stock Your Closet:
Along with your gifts, you'll want to include of gift giving essentials.  For me, that means wrapping paper, double sided tape, and bows. I also keep a selection of greeting cards on hand for all occasions. Thankfully, Big Lots has all of these things – one stop shopping!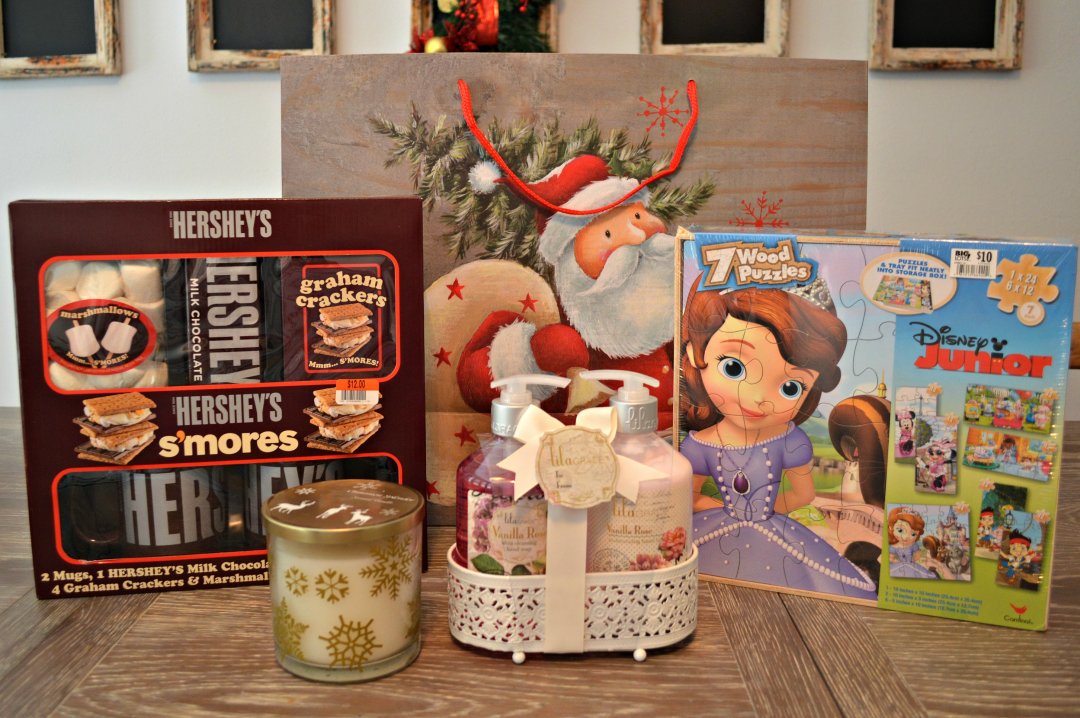 Step 4, Wrapping Time:
Now that you have all of those gifts, it is time to wrap them up, and I got my wrapping paper and ribbon while I was at Big Lots, so let's get going!  I love to make my gifts look special.  Try using double sided tape wherever you can when wrapping so that you don't have tape all over the outside of the package. Add an ornament, or in this case, a couple of candy canes, along with pretty bow to make your gift look special.  If my gifts are going under the tree I want them to look pretty.  For me, the gifts under the tree are part of the decorations.

You don't have to have all the gifts in the closet wrapped, but it will make it easier! Also, once the gift is wrapped place a sticky note with the description of the gift inside so you never have to second guess what you wrapped!
I find Big Lots to be a great place to begin stocking my gift closet.  The value I can get out of a shopping trip to Big Lots lets me replenish my gift closet on a regular basis! Don't forget to shop their selection!
Do you have a gift closet set up? What do you normally stock it with? Let me know in the comments below…